Who has never hosted in his home a high mountain of clothes to iron that seems grow day by day?
There are times when, for one reason or another, we don't have time and we don't want to iron and we get to watch chairs full of clothes, overflowing laundry baskets with a sense of powerlessness.
Clothes that don't need to be washed again because we have put them on only for half a day, but they have become ball of wrinkles because we have not put them tidily into the wardrobe.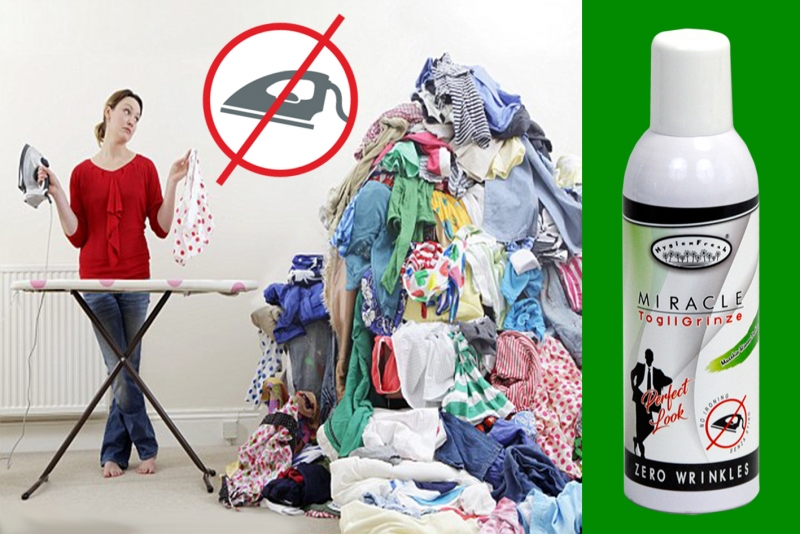 HygienFresh developed a miraculous very efficient and scented solution to halve the "mountain" of clothes to iron: MIRACLE!
Wrinkle remover spray with stretching action without ironing with White Musk fragrance.
  • It eliminates wrinkles and folds from garments
• It stretches fibres – Avoids ironing
• High antistatic action
• It refreshes garments thanks to its White Musk essence
Miracle is available also with its comfortable counter display!
PUT IT ON YOUR SHOP COUNTER…IT WILL BE MORE VISIBLE!!!
All the Miracle counter displays are sold with 8 Sprays and then you can replenish them by ordering the boxes with 12 pieces inside!
Half of eating is done with the eyes so show Miracle Counter Display on your shop counter and you will give the right amount of space to Miracle Spray.
Organize your products in an effective, precise and attractive way!
Your clients will give in to my drive to buy it at least once… and then they will get attached to it!
A70-063TRx12 – SPRAY MIRACLE wrinkle remover (12x300ml)
A70-064TRx8 – MIRACLE COUNTER DISPLAY (8x300ml)
Instructions for use
Shake well before use, spray it evenly on the parts to treat and leave the product act for at least 10 minutes.
In order to extend the fibres stretch slightly the garments after having sprayed it.

---
Miracle – zero wrinkles
On holiday and at home… BYE BYE IRON!