ENZYMATIC STAIN REMOVER
EMULSENE Spotting agent - Additive is an enzymatic stain remover which can be used on garments such as cotton and polyester.
It uses the power of a rich complex of enzymes: protease (for protein stains), lipase (for grease stains), amylase (for starch stains) and cellulase to restore fibres.
It contains a high percentage of non-ionic surfactants to easily remove grease stains from garments and avoid the new deposition of dirt which can make garments darker.
Emulsene is a powerful spotting agent, delicate on garments.
Thanks to its pH 9 and to the colour transfer inhibitors, it maintains colour brightness and protects fibres. It has an excellent fresh lemon and orange fragrance.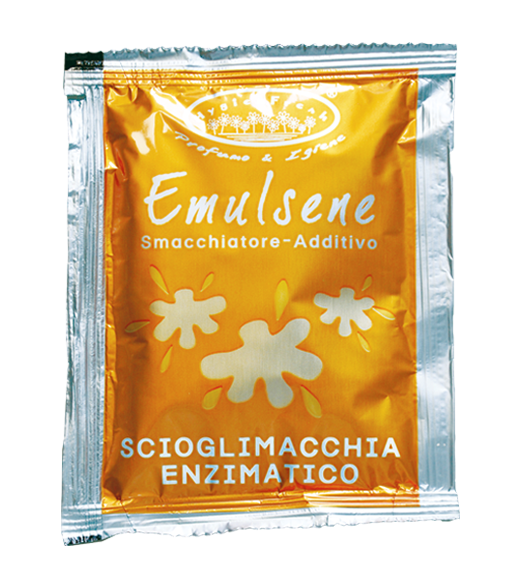 HOW TO USE:
Use in the washing machine: Pour the content of the sachet into the appropriate compartment along with the detergent. Dosage for 8/13kg of garments.
Direct use: Pour the product directly onto the stain. Put the garment in the washing machine. Test the product before on a hidden part of the garment.
CODE A48-612
PACKAGING 150x50ml
---
The HygienFresh single doses are ideal to supply the VENDING MACHINES of Self-Service laundries or as COURTESY LINE for hotels.