It is the ideal system, with automatic dosage, for both traditional and self service laundries who look for excellent performances.
Its main advantage is to increase the fragrance during wash.
You can obtain an intense perfume thanks to the synergic action of the essence contained into the detergent and softener.
The DeoWash system combines detergents and softeners with the same fragrance, by giving a perfect laundry, a soft and delicate "touch" and a heady fragrance.
You can have five options:
ENZYMATIC WASH WITH WHITE MUSK FRAGRANCE
ENZYMATIC WASH WITH WILD ORCHID FRAGRANCE
ENZYMATIC WASH WITH LOTUS FLOWER FRAGRANCE
WASH WHICH AVOIDS COLOUR TRANSFER WITH FRESH LAUNDRY FRAGRANCE
WASH FOR WOOL AND DELICATES WITH ROSE MILK FRAGRANCE
Let's look at them in detail
Let's start with enzymatic detergents: BioMusk, BioOrky e BioLoto.
The protease and amylase enzymes that they contain act in synergy against dirt and the most stubborn stains. Surfactants complete the spectrum of action. So they are active detergents against any kind of stains.
The protease enzymes eliminate protein stains, so they are active on: blood, chocolate, sauces, food stains, eggs, milk, ice cream, etc.

The amylase eliminate starch-based stains so they are active on: rice, homogenized, grass, potatoes, etc.

Surfactants eliminate grease stains so they are active on: food oil, grease, earth, engine oil, tar, wax etc.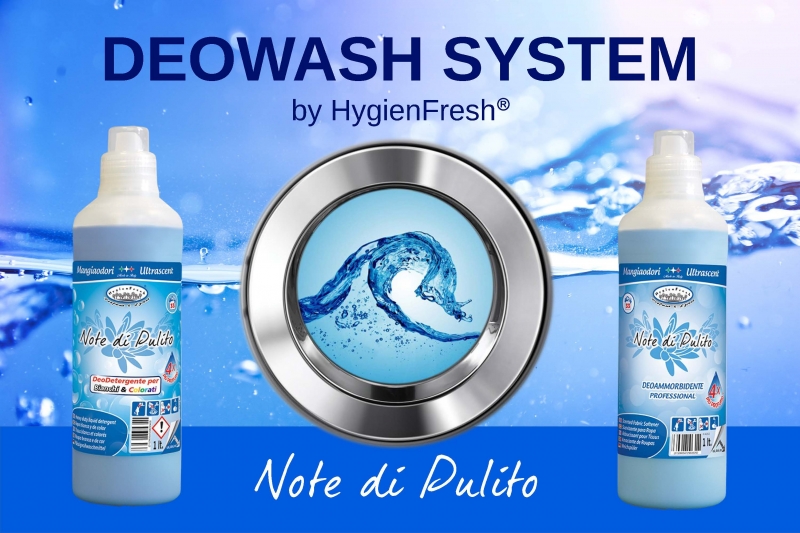 HygienFresh Note di Pulito is a liquid detergent for both white and coloured garments. It eliminates bad odours and gives garments an incomparable fresh laundry fragrance. It effectively removes the stains and creates a relaxing action on fibres. It enlivens the original garments colour.
↓
HygienFresh has created some softeners with the same fragrance that you can combine with these highly effective detergents, to enhance the scent of your laundry.
---
Finally, the DeoWash system for wool has been developed to guarantee the best clean, perfume and softness of delicate garments. During the first step you have to use the HygienFresh Delicati & Lana detergent, which has a high cleaning power and maintains the wash pH in the exact range to protect wool, thanks to its buffer system. Moreover it contains lanolin, the natural wool grease, which gives softness.
In the second step you have to use HygienFresh Sfeltrix, the finishing agent which substitutes the softener in this kind of wash. Thanks to its highly concentrated cationic surfactants and silk proteins, the wool fibre is regenerated and you can prevent wool felting.
---
So which are the secrets of our winning formula?
You must see the result:
a good system must guarantee the cleanliness of your garments.
You must feel the result:
an efficient wash must guarantee a soft and velvety finish for your garment.
You must smell the result:
products to be complete have to excite and the fresh laundry fragrance has to "catch" you.
Download the presentations dedicated to the DeoWash System
---
>>> Retain your clients with the winning HygienFresh formula <<<